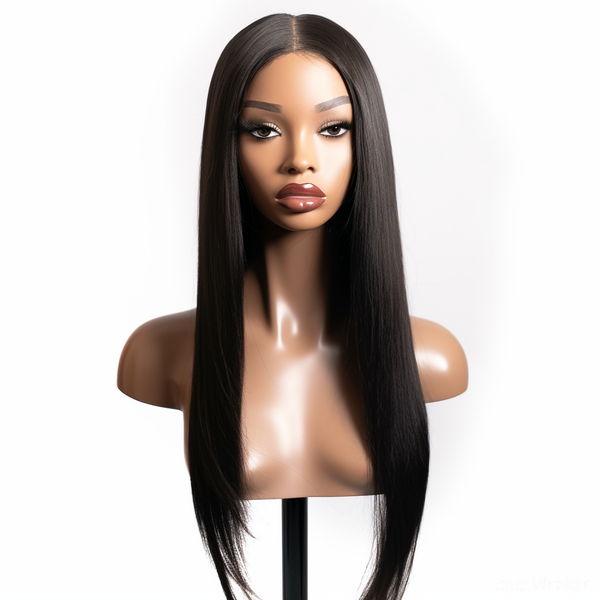 HD Lace 4X4 Closure Wig 180% Density
Hair Material: 100% Unprocessed Human Hair

Lace Type: HD 4×4 Lace Closure - Free Part.

Human Hair. Hair Length: 12-32 inch.

Hair Style: Straight, Body Wave, Water Wave, Deep Wave

Density: 180% Density

Hair Color: Natural Color.
I love everything about it! I usually don't get curly wigs but after I bought a different wig from this site (that I LOVED as well) I decided to try it, and love it!! I'm ordering another curl pattern for my birthday
4x4 Closure Body Wave Wig 180% density
It's full, the exact length, knots are easy to bleach! The bands inside it makes it easy for a glues less look!
I love this wig
let me just say the lace & the hair on this wig was very nice ! It was easy to blend into my client's skin & the hair also can hold a curl very well !! PURCHASE THE WIG WHAT ARE YOU WAITING FOR !! thank you loxx hair
How Many Bundles Will I Need?
Probaly the most common question we recieve. We reccomend for a Full Sew In longer than 16" - 3 Bundles /  Partial Sew In or Sew in witha closure under 16" - 2 Bundles.
Can I dye my Bundles
This is probably the second most asked question. When it comes to dying extensions, you must understand that each quality collection has different coloring capabilties. Please see read each collections capabilities above.
How Do I Wash My Extensions
Using a generous amount of sulfate free condition ( we like aragon oils) gently run your fingers through the hair. You can also use a wide-toothed comb to ensure every strand is coated evenly.Rinse out the conditioner using luke-warm water and pat (don't rub!) dry using a towel.Complete your wash routine by allowing your extensions to air dry. Once your extensions have dried, simply comb them out using a WIDE-toothed (emphasis on WIDE, tight teeth will pull the hair from the weft) comb, and install or style as desired!
What is HD Lace?
HD Lace is the thinnest lace in the hair market. It is also very soft and delicate which means that users must be extra careful when wearing these pieces
What is the Difference between HD and Transparent Lace
HD Lace has the best effect for blending frontal with the skin. Since it is the thinnest lace it is unnoticeable compared to other lace types. Since HD lace is made of a lighter material, the knots on the lace are very hard to notice. Both HD and Transparent can provide similar natural effects when installed. Keep in mind that both HD and Transparent Lace DO NOT Last Longer than other laces, they only provide a different effect. Keep that in mind when purchasing as you will need to be extra gentle with the material.
How Long Should My Install Last?
Lace usually last 1-2 weeks before maintenance is required. Keep in mind that all this is DETERMINED BY THE CUSTOMERS CARE, everyone takes care of their hair differently. If you're a frequent sweater, this may not be the best choice for you.
Is Maintaining My Lace Required?
HD Lace is very delicate, so it will require higher maintenance than standard lace. HD Lace is not cheap and can become costly if you're constantly replacing. We only recommend HD Lace if you are capable of maintaining these products. Please consult your stylist.
What is the Difference Between a Closure and Frontal?
Our lace closures cover the top front part of your head just behind the hairline.  It is designed to cover the section of your head where you decide to part your hair. The bigger the closure, the more part coverage you have.  We carry 4 inches by 4 inches and 5 inches by 5 inches Closures. All of our lace products are made with Swiss lace.
Our lace frontals cover the entire front perimeter of your head from ear to ear.  Frontals have a dimension of 13 inches to 4 inches. The versatility of frontals are endless because you are able to part it in any direction.  All of our lace products are made with Swiss lace.
Are Your Closures and Frontals Free Part?
Yes, all of the Loxx Closures and Frontals are all Free Parting.  Free Part means that you can part the hair on the lace however you desire!
Need Inspiration?
Check out real customer inspired looks on our Instagram!